Anjana Jindal, M.D.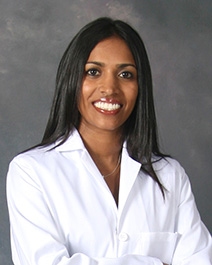 Medical and Surgical Management of Glaucoma
Dr. Jindal earned a BA in philosophy at The George Washington University in Washington, DC before continuing on to The George Washington School of Medicine and Health Sciences where she earned her medical degree.
Dr. Jindal completed her internship at the Georgetown/Washington Hospital Center and held her residency at The George Washington University Hospital, where she was chief resident her final year. Dr. Jindal earned her glaucoma fellowship at the Wills Eye Institute in Philadelphia, Pennsylvania.
Dr. Jindal has held academic positions at Temple University as Assistant Professor of Clinical Ophthalmology and Co-director of Research and at Thomas Jefferson University where she served as Assistant Professor of Ophthalmology. Additionally, Dr. Jindal has practiced ophthalmology at Temple University, Wills Eye Institute, and private practices throughout the Philadelphia area.
Dr. Jindal is Board Certified in Ophthalmology by the American Board of Ophthalmology. She is an active lecturer who has presented and been published on a variety of eye care and glaucoma related topics.