Peter Lapinsky, M.D., F.A.C.S.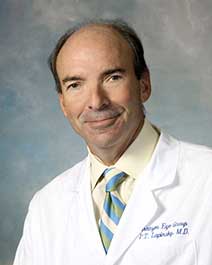 Cataract Surgery, Laser Vision Correction, Anterior Segment Ophthalmology
Dr. Peter Lapinsky joined Katzen Eye Group in 1984. He earned his medical degree at the University of Maryland School of Medicine in 1980. After completing an internship at Mercy Hospital, he began a residency at the University of Maryland, serving as Chief Resident from 1983-1984.
Dr. Lapinsky is a board-certified ophthalmologist and a Fellow of the American College of Surgeons. He became a Diplomate with the American Board of Surgeons, as well as, the American Society of Cataract and Refractive Surgeons in 1984.