Sajeev Kathuria, M.D., F.A.C.S.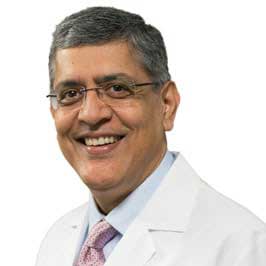 Reconstructive and Aesthetic Eyelid and Facial Plastic Surgery, Cosmetic Services, Dry Eye Syndrome
Dr. Sajeev Kathuria joined the Katzen Eye Group in 2017 as the Director of Oculofacial Plastic Surgery and Medical Director of Aesthetics by Katzen. He is a board-certified Ophthalmologist, Fellow of the American Society of Ophthalmic Plastic and Reconstructive Surgery (ASOPRS), 3-time recipient of the "Attending of the Year" award and the former Director of Oculoplastic and Reconstructive Surgery at the University of Maryland.
Dr. Kathuria attended medical school at the George Washington University School of Medicine, where he graduated with honors, and completed his residency at the University of Maryland School of Medicine. He pursued further training by completing a fellowship in Oculoplastic Surgery at the University of Toronto. He has been in practice for over 23 years and has performed thousands of surgeries. Before joining the Katzen Eye Group, Dr. Kathuria was an attending at Greater Baltimore Medical Center (GBMC), where he was voted "GBMC Attending of the Year" by the Ophthalmology residents of the Johns Hopkins Wilmer Institute. Prior to GBMC, he was an Associate Professor at the University of Maryland and served as the Director of Oculoplastics and of the Residency Program. During his tenure there, he also worked at the world-renowned Shock Trauma Institute, where he performed complex reconstructive surgeries on trauma patients in a multi-disciplinary setting. Dr. Kathuria has authored numerous book chapters and peer-reviewed journal articles, and he has lectured both nationally and internationally.
Dr. Kathuria performs a wide variety of surgical procedures dealing with the eyelids, orbits, eyebrows, and tear ducts. These procedures include, but are not limited to, the removal of excess skin of the upper and lower eyelids (blepharoplasty), repair of an eyelid droop (ptosis repair), the repair of lower eyelids that turn in/out (ectropion/entropion), tear duct reconstruction (DCR) for patients with excessive tearing, cancer of the eyelids and eye socket, and surgery for Graves' (thyroid) disease.
Outside of the office, Dr. Kathuria enjoys biking, reading historical fiction, and spending time with his wife and 2 children.