Sudeep Pramanik, M.D.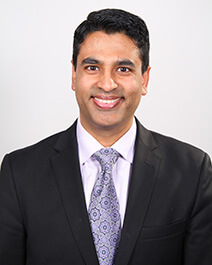 Corneal Specialist
Dr. Sudeep Pramanik is a board-certified ophthalmologist and Fellow in the American College of Surgeons specializing in cornea and external disease. He completed his internship at Virginia Mason Medical Center in Seattle, Washington. His residency and fellowship of cornea and external disease were completed at the University of Iowa in Iowa City, Iowa. He also completed an MBA at Rice University's Jones School of Management, graduating among the top of his class as a Jones Scholar.
As a corneal specialist, Dr. Pramanik offers all methods of corneal transplantation (PKP/ DLEK / DALK / DMEK / DSEK / and keratoprosthesis), complex cataract surgery by referral, refractive surgery, ocular tumor surgery, and reconstruction of the front portion of the eye.
"As a former Assistant Professor at Johns Hopkins Wilmer Eye Institute and Clinical Assistant Professor of Ophthalmology at the University of Maryland, Dr. Pramanik teaches routine and complex cataract surgery techniques to residents. He also teaches the management of corneal disease, corneal surgery, and refractive surgery to residents. Currently, he is working on a database to track improvement in safety and outcomes in their teaching program.
Dr. Pramanik is passionate about helping fight blindness. He has been to India numerous times to teach courses at the Aravind Eye Hospital, the Vittala International Institute of Ophthalmology in Bangalore, and the Disha Eye Hospital in Barrackpore.
Inspired by their desire to teach new techniques to surgeons overseas, Dr. Pramanik and colleagues from Hopkins founded the International Cornea Foundation. They have developed a model of continuity of training with surgeons in India. Unlike other programs that visit an area once, the ICF supports its local surgeons for years, enabling them to adopt new technology in cataract surgery and eye banking. Started in India, the model is now expanding to Africa in conjunction with our friend, Dr. Fasika Woreta, an Assistant Professor at the Wilmer Eye Institute and Bloomberg School of Public Health.
Dr. Pramanik is married to York County's Oncologist of the Year, Dr. Reena Pramanik. They live with her parents and their three boys. They used to have hobbies but now spend their free time chauffeuring the kids to swimming, karate, and scouts