Olga Shif, M.D.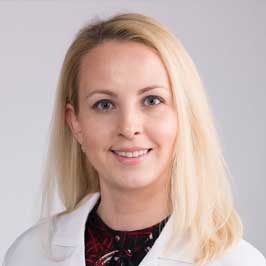 Attending Physician
Dr. Olga Shif graduated Magna Cum Laude from Arcadia University's Honors Program with a Bachelor of Arts degree in biology and chemistry. She earned her medical degree from the Jefferson Medical College (now Sidney Kimmel Medical College of Thomas Jefferson University) in Philadelphia, Pennsylvania. After completing medical school, she spent a year at the well-known and respected Bascom Palmer Eye Institute in Miami performing glaucoma and pattern ERG research. Dr. Shif went on to complete her internship at Pennsylvania Hospital, also in Philadelphia. She relocated to the state of Texas, where she was accepted into the residency program at The University of Texas Health Science Center at San Antonio. Subsequently, she was accepted for a vitreoretinal surgical fellowship at Sinai Hospital's Krieger Eye Institute, returning her to the east coast. At the end of her first year of fellowship, the program was discontinued, and she then joined The National Retina Institute's fellowship program to continue her training. After completion of her fellowship, Dr. Shif joined the attending staff.
Dr. Shif is a member of the American Academy of Ophthalmology and has received many honors and awards over the course of her education and training. She has presented at numerous ophthalmology conferences, has had articles published in peer-review journals, and has contributed to book chapters.
Dr. Shif is a Board Certified Ophthalmologist and is fluent in English, Russian, and Spanish.