Vinod Lakhanpal, M.D., F.A.C.S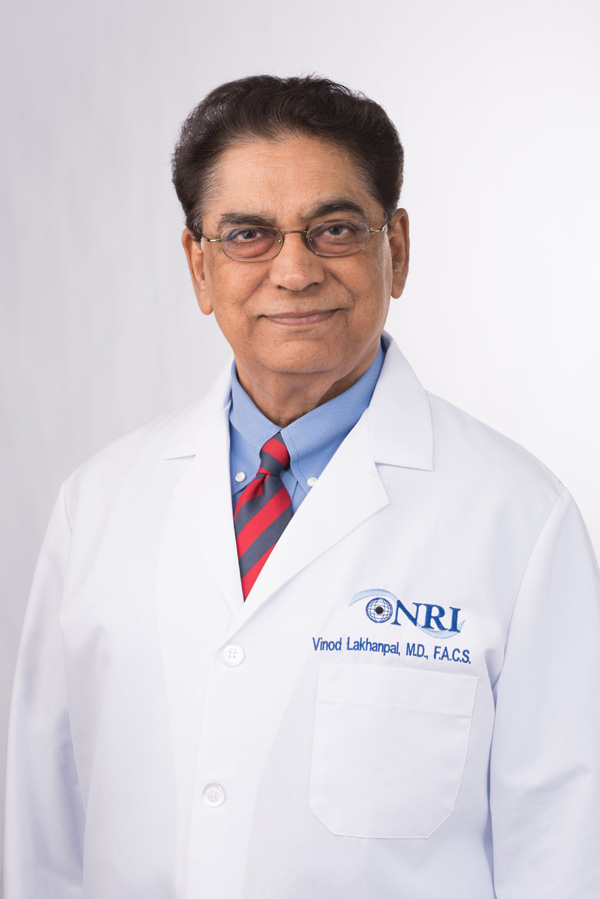 Chief of Retina Services, Principal Research Investigator and Director of the Fellowship Program
Dr. Vinod Lakhanpal is the Chief of Retina Services, Principal Research Investigator and Director of the Fellowship Program at The National Retina Institute. He has been in clinical practice in Baltimore for over 40 years. Dr. Lakhanpal completed his residency in Ophthalmology and received a Master of Surgery (MS) in Ophthalmology at the Postgraduate Institute of Medical Education and Research in Chandigarh, India. Dr. Lakhanpal was awarded a fellowship in Retinal Diseases and Surgery at the University of Maryland in 1975. After 18 years at the University of Maryland, he established the Eye Consultants of Maryland, where he was a Senior Partner and Director of Vitreoretinal Services. He was also Chief of Ophthalmology at Union Memorial Hospital from 1995-2016 and currently holds a Clinical Professorship of Ophthalmology at the University of Maryland.
Dr. Lakhanpal's original research on massive suprachoroidal hemorrhage was instrumental in his membership into the prestigious American Ophthalmological Society, which has only 210 active worldwide members. His other research interests include desferal toxic retinopathy, laser photocoagulation, and its complications, and inflammatory diseases of the retina which have led to publications in the Archives of Ophthalmology, Ophthalmology, and Transactions of the American Ophthalmological Society.
Since 1999 Dr. Lakhanpal has served as a reviewer to the Archives of Ophthalmology and ad-hoc editor of Ophthalmology and Retina. He is a member of the Retina Society, Maryland Society of Eye Physicians and Surgeons, and a Life Member of the American Academy of Ophthalmology, specializing in the surgical care and management of vitreoretinal diseases.
Dr. Lakhanpal has participated in many national clinical research trials such as DCCT, Endophthalmitis Vitrectomy study, and Visudyne Photodynamic study. Dr. Lakhanpal is an expert in the laser treatment of diabetic retinopathy and its complications, including surgery, age-related macular degeneration, and its treatment with multiple drug injections (Avastin, Eylea, Lucentis, etc.). Additionally, he is an expert in the surgical treatment of retinal detachment and vitreous hemorrhage and is internationally known for his work in massive suprachoroidal hemorrhage. He has received many awards in teaching and has been recognized as a leader in his field. Dr. Lakhanpal was involved in the ophthalmic care of the Prime Minister of India in New Delhi.